(1)
One of the confirmed underground railroad sites in Perinton Township is the Isaac Talman house, 2187 East Whitney Road, it still stands.  John Talman Jr was a young boy at the time, his grandfather Isaac built there in the 1820's.  John, whose career spanned the newspaper and magazine industry as a staff writer, telegraph editor and contributor writes that; "This farmhouse, my birthplace, tops a hill sloping gently to the west. owned by my father, John Talman, Sr., one of the 'black Republicans (2)' of his day, was as implacable and intolerant an enemy of human slavery as the North could boast, and as sturdy, fearless, and unfailing a defender of what he deemed as right as I ever knew.  He was one of the band of Abolitionists that conducted what was known as the 'Underground Railroad', whereby fugitive Negro slaves from the South were enabled to find asylum in the free air of Canada.  The runaways were passed along from station to station, and this Perinton farm was one of the stations.  We were not far from the port of Charlotte, where the fugitives in summer could cross Lake Ontario, and in winter, when navigation was suspended could land on British soil by way of Niagara Falls or Buffalo."
He goes on to recount an event typical of activities on the Underground Railroad.  "In the township of Perinton, Monroe County, New York, twelve miles southeast of Rochester and two miles east of the village of Fairport, stands (or at any rate stood when last, I saw it (3)) a farmhouse that cuts a significant, if humble figure in the anti-slavery crusade that brought on the Civil War of 1861–1865.  I have a distinct recollection of the time when in the winter of 1859-60 a runaway slave from Georgia, his wife and half dozen little children were concealed in our house for a week or more on their way to Canada.  They were quartered in the kitchen and provided with food, not only for present needs, but sufficient for several days after leaving us.  I had never seen a negro child before, and no sooner had the dusky family found refuge with us than my childish curiosity aroused.  My fingers were exploring the thick crop of wool that thatched the wide-eyed pickaninnies [sic].  The family remained with us until the time agreed upon by the liberators, when my father, in the dead of night, packed them in a large lumber wagon under quilts and blankets and drove them to the next station.  A relative, a neighbor, afterwards told of his surprise when he called at our house and found himself in the midst of our Negro guests.  "It was a perilous business, this aiding slaves to escape.  The 'Underground Railroaders' were near-outlaws, operating in defiance of the United States government and being under the constant espionage of government agents, whose utmost vigilance, however, could not nullify the services of these devoted men of the sacred cause of liberty."  [ca. 1930-1]
New York State had a vast network of churches, community sites and safe houses strongly involved with abolition.  Many in its western portion, two of its most infamous residents were African-American Frederick Douglass, abolitionist, orator and statesmen.  After gaining freedom, he eventually settled in Rochester in 1847, he's buried there in Mount Hope Cemetery.  Abolitionist, humanitarian Harriet Tubman also born into slavery known as "The Moses of Her People" lived in nearby Auburn.  Because of its proximity to Lake Ontario and Canada, Rochester served as a terminus for the eastern branch of the Underground Railroad.  While northern states were ostensibly "free" the Fugitive Slave Acts of 1793 and 1850 allowed slave catchers to work in all states.  For all intents and purposes, it extended slavery everywhere, making passage to Canada necessary to guarantee freedom.  According to some sources, the first organized escape took place in 1804 and, by 1830, the organization of "stations" and "conductors" was developed and active with western, central, and eastern branches.  It was in this decade as well that various anti-slavery societies began to agitate for change.  Even though aiding slaves was an offense punishable by jail and/or a $1,000 fine, the railroad kept on operating.  Stations were spaced approximately one day's walk apart and could be secret rooms, barns, caves, church belfries, root cellars and the like.  Lighted lamps or candles often served as signals.
When Frederick Douglass came to speak in the hamlet of Egypt in southeastern Perinton; he found the church doors locked, forcing him to address the crowd outdoors.  The same John Talman describes Douglass: "[he]…wore a long blue broadcloth coat with brass buttons.  He was tall, erect, a massive figure, his noble bronze countenance surmounted by an enormous halo of thick crinkly hair.  In speaking he had a habit of accentuating each decisive utterance by slightly bending his head, shutting his jaws like steel traps, and widening his mouth in a smile of sardonic grimness."  Although there is no way to definitively number those who used the Underground Railroad, this loosely organized secret group of brave and dedicated individuals, a number of them Perinton citizens, clearly were a force in ending the scourge of slavery.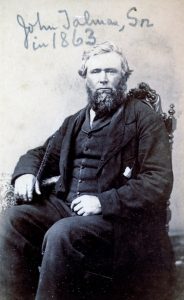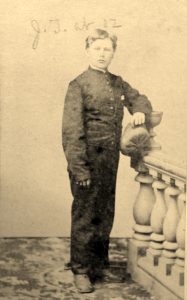 John Talman Sr. (1810-1885)                     John Jr. 1863
© Jon Tallman                                            © Jon Tallman
(1) Photograph from the archives of the Perinton Historical Society ca. 1945
(2) From 1854, when the Republican Party was founded, Democrats labeled it adherents "black Republicans" to identify them as proponents of black equality.
(3) John Jr. died 26 Mar 1936 at his daughters' home in Gold Beach Oregon.