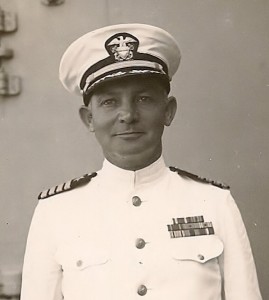 Donald "Rex" Tallman was born August 29, 1900 in Hillsdale Michigan. The son of William Henry Tallman a Captain of the Michigan 2nd Calvary during the Civil War and Cora E. Sampson. Upon the death of his father in early 1909 the duties of raising Rex and his older brother Henry was now placed on Cora. Both boys were educated in Hillsdale local schools.
Rex likely placed high regards on his father's military history and decided on a military career upon his graduation. With recommendations, he received an appointment to the United States Naval Academy, Annapolis, Md. from Congressman J. M. C. Smith. He graduated from the Academy an Ensign on June 3, 1920.
Starting with his first known assignment in June 1924 he served two years aboard the destroyer "USS Dale" operating in eastern waters and the Mediterranean. From a 1941 newspaper, article Rex took a special course at Newport, to prepare for three years as Executive Officer aboard the flagship gunboat "USS Luzon" stationed on the Yangtze river, China from 1929 through 1931. His next assignment took Lt. Tallman to the White House where he served as one of three naval aides during the latter part of the Hoover and early part of the Roosevelt years. On May 20th 1933 he served as one of two aides to Eleanor Roosevelt at a White House Garden Party alternately greeting about 1500 guests. From 1937 through 1939 and now a Lieutenant Commander he served as Director of Discipline's at the Naval Academy. Upon leaving the Academy, he has been connected with the Pacific Fleet. Rex was promoted to Commander on 1 July 1941.
On 16 Jun 1942, he married Francis Virginia Waggaman widow of a fellow Annapolis grad. Most of "43" was spent in Newport, R.I. attending the Naval War College. Next up, the "Flagship – Teton" (AGC-14) was acquired by the Navy on 18 October 1944; and commissioned the same day at Brooklyn, N.Y., commanded by Donald "Rex" Tallman now a Captain. After the initial shakedown cruise, she headed for Hawaii via the Panama Canal; arriving in Pearl Harbor 19 Jan, 1945. Teton was assigned to Amphibious Group Twelve, with Rear Admiral John L. Hall – Group Commander.
The following acknowledged paragraph is referenced from the book- "America's Fighting Admiral's" by William Tuohy.  "On Okinawa for the D-Day landings on April 1, 1945, Easter Sunday, preceded by five days of air and sea bombardment. Admiral Hall closed in near the beach and his flagship, conned by Captain D. R. Tallman, prepared to drop anchor. Hall noticed Kelly Turner's flagship "Eldorado" steaming past and anchoring closer in, despite occasional enemy artillery rounds landing in the water. Hall told Captain Tallman if he let Turner's flagship get closer to the beach than Teton, he would fire him. Tallman steamed the Teton past Eldorado before dropping the hook. The landings went off with few hitches after dawn on one of the island's few level stretches. She remained there for 72 days controlling the landing operations on the Hagushi beaches and providing standby control of defensive and offensive air operations before joining a convoy for the Phillipines. But for the U.S. Navy, the battle of Okinawa was turning into the bloodiest chapter in its history."
His last command was as Captain of the "USS Huntington" commissioned Saturday Feb 23 1946 in Philadelphia. A 10,000-ton single stack light cruiser, one of the most modernly equipped at the time. 611 feet in length, designed to attain a speed of 35 knots, equipped with 12 – 47 caliber and 12 – 38 caliber guns. She carried a crew of 50 officers and 850 enlisted personnel. Rear Admiral Milo F. Draemel commandant of the fourth naval command turned the ship over to him. Other distinguished guests that day, included West Virginia Senator Harley M. Kilgore, Representative Hubert S. Ellis of West Virginia and Connecticut Governor Raymond E. Baldwin.
After the Huntington returned November 14, 1947 to the Philadelphia Naval Yard for an extensive overhaul, Donald retired to Coronado, California. He lived the rest of his life in California working as a broker for both Dean Whitter and Merrill Lynch until around 1965. He passed his life on August 8 1983 and is buried in Ft. Rosecrans National Cemetery, San Diego.