George Washington Tallman the youngest child and son of Stephen and Mary (Tripp) Tallman was born 20 October 1814 in the Town of Washington, Dutchess County, New York. He migrated with his family to the Town of Mentz, Cayuga County, New York a youth of about 6 circa 1820. The family being farmers and like their cousins who'd migrated to Monroe County also grew the "Tallman Sweet" apple.
Little is known of him in his youth, but, most likely was educated in a one-room schoolhouse and spent much of his time helping on the farm. When news of the discovery of gold in January 1848 in California reached the outside world; a lot of eager men were overcome with the fever of striking it rich and George was one of them.
January of '49' a group of adventurous men in Auburn, New York came together to form the "Cayuga Joint Stock Company". If they came up with enough investors they would buy a vessel and sail around Cape Horn to San Francisco. They wanted only men of a good standing, and fair reputation who could contribute $500. By becoming a member they'd receive all the advantages derived from the venture. George became one of those investors and traveled to New York City with the group in February. The organization of the Company was completed in the dining room of the Western Hotel on Cortland Street just north of Battery Park. Member Samuel Barney, who had previous experience as a whaleman, was chosen as their Captain. Samuel recommended they purchase the bark "Belvidere", a ship in the harbor of 396 tons built in Baltimore in 1815.
A Charter was then drawn up consisting of 24 Articles. The cargo they purchased consisted of mining tools, provisions for three years and a large amount of lumber supplies for building purposes. Company receipts showed the ship and supplies cost the company $14,716.71. Goods and merchandise purchased with the intent to sell $24,235. Drugs and medicine $500, a commission of $1,710.63 was paid, and that the amount received by members totaled $39,000. Captain Barney was exempt and in addition paid $500 for his services.
They set sail about 11 am on the 28th of February with 79 aboard, 12 men acting as crew, 4 women and 1 child. The women were the Captain's wife and 3 of the other men's wives and a daughter. A harbor pilot was brought on board who took them out to Sandy Hook where he departed. They would wait there until on March 2nd when favorable winds sent them off on their voyage to San Francisco.
George's first letter to his brother Stephen Jr. dated 25 Feb '49' was from the Western Hotel and said only that he had one note of $56.96 that was not due until he returned and that if something should happen to him that his interest in the "Stock Company" would be left to him.
His second and third letters of March 29 and 31st were both sent from the Cape Verde Islands. The ships letters had been taken a shore by fishermen and mailed. The letters were now addressed to "Brothers and Family". They spoke of them crossing the Gulf Stream, the rough seas and one and all of sea-sickness for 5 or 6 days. That if they should write, to send his mail to San Francisco in care of the Cayuga Joint Stock Company.
From the islands they would then catch the westerly trade winds heading toward South America and the "Horn". On the 3rd of May they made the Falkland Islands and on June 1st ran into their first snowstorm. On June 23rd the Belvidere rounded the Horn and they began making 5 to 6 knots an hour. July 4th was spent in celebration by firing guns and pistols; they read the Declaration of Independence, flew the Stars and Stripes. Their evening dinner was made of all the ships luxuries that it could afford.
The next letter came from Port of Callao, Peru addressed the 29th of July. George now writes a lengthy letter of their crossing the Equator on April 9 and making good runs. The company is all of good health and his couldn't be better. They went on shore about 10 o'clock in the morning and were able to find two Americans living there that spoke Spanish. After taking a short tour around town they decided to visit Old Callao. The old city had been destroyed by an earthquake eons before but many of the ruins were still there. They ended the day going to a cockfight in which he said there was much heavy gambling by the locals. They visited and toured the City of Lima, George described how the Catholic religion was the only one allowed in the country and none other tolerated under penalty of imprisonment. August 5th they loaded fresh water and provisions and headed out to sea on the 6th. The 29th they again crossed the Equator this time in the Pacific. He went on to say the only sad incident was the death of Walter W. Tuttle of Auburn who had been sick with diarrhea and inflammation of the bowels since leaving Callao. They sailed into San Francisco Bay, 12 October 1849 and set anchor at 3 o'clock in the afternoon and all was well.
There, they set up tents as living quarters and went to work seeking jobs to accumulate monies to head for mining camps. It was not long before things turned out not as supposed when they started the venture. By the time of the next annual meeting in the spring of 1850 it was decided to dissolve the Company. Everything was sold including the ship, two dividends were paid out the first of $208, the second of $70.92. Some of the men formed their own partnerships while others went their own way.
In his letter of October 14, he described the high wages paid to skilled laborers; there were probably 2000 men living in tents and seeing some of the gold brought back from the mines. Finally, that he was planning on heading to Stockton on the 18th to the mines.
There exists four other letters from California between November 1849 and August 1853 in which he talks of everything from doing well both financially and in health to being quite sick for lengthy periods. In one letter of note from Sacramento written Oct 30, 1850 he tells them Edgar Haight and John Havens are both here and well. By Jan 20, 1854 he has moved to the Alpha mining camp in Nevada County, east of Yuba City to try his luck there, John Havens has decided to join him there. It's known that Edgar had returned to Buffalo, New York and continued his boat building business. Both Edgar and John are cousins of his from marriages. April of 1856, still mining in Camp Alpha with Havens they're not having much luck; it's been dry for a long period and no water for the sluices. He ends the letter with: Yours in Haste, G. W. Tallman give my respects to all of Bucksville. The next to last letter to Stephen Jr. from Sacramento was May 28 1857, is also short, stating all is well but, that he hadn't heard from him since last November. It's of note that it appears he may owe Stephen money and if it were not for bad luck he would send some.
There's a gap now of 29 years between the existing letters. The last written to brother Stephen Jr. and probably his last to anyone was dated 12 December 1886 from Redwood City which states: he received Stephen's letter of November 21; truly glad to hear from him but, sorry to hear of his poor health. As for himself he has but little to say other than his own health had been very good for a man of 71. As for business he's been Justice of the Peace for the last two years and his term expires in January '87'. (Again not telling all) Financially I have nothing to brag of, I have made a lot of money but, I have made too many bad speculations. His brother Stephen Jr. died on 3 December 1887.
Apparently when George's term as a Justice expired he was appointed a Deputy Jailer of the San Mateo Sheriff's Department. The following took place on Saturday 18 February 1888 at the Redwood City Jail
RESULTED FATALLY Death of the Redwood City Jailer Who Was Beaten by Tramps.
(Copyright 1888 by the California Associated Press)
Redwood City, February 24th. — "G. W. Tallman, the jailer who was so roughly handled by four tramps on Saturday evening last at the county jail, died in the Tremont House today. He had steadily failed since Monday, and the doctors gave up hope then. He was solicited to make an ante-mortem statement, but maintained that it was not necessary, as he would be able to testify, and was not going to die. He has relatives in Los Angeles. The funeral will take place on Sunday under the auspices of the Masons. A tramp was arrested at San Jose today on suspicion and brought here, but was not positively identified. Two of the four are in custody." (Sacramento Daily Record Union, Saturday Morning, February 25, 1888.)
FAST FORWARD TO APRIL 7, 2003
The local citizenry so liked San Mateo County Sheriff's Deputy George Washington Tallman that they had a parade in 1888 after he became the first local lawman killed in the line of duty from injuries suffered during a jail break. This weekend, Tallman got another showy sendoff by a group of history buffs and law enforcement officers and Masons who gathered in Redwood City's historic Union Cemetery to dedicate his new gravestone — a replacement for the original, which was stolen about two decades ago.
The new granite headstone was unveiled Saturday after a motorcycle procession from the nearby courthouse and a bagpipe-led police honor guard that carried the flags of the United States and California. "We wanted to try to do it right. Even though none of us knew him, he still was one of our own," said San Mateo County Deputy Philip Moser, who was dressed as a cowboy with a six-shooter on his hip for the event.
Also in attendance was Sheriff Don Horsley, members of the history preservation group "E. Clampus Vitus", many wearing 19th-century costumes, and numerous representatives of four local Masonic lodges bedecked in their order's regalia.
Tallman was a dedicated Mason and is buried in the Mason's plot of the Union Cemetery, a tree-shaded oasis next to now busy Woodside Road just west of El Camino Real. Long neglected, the cemetery has been much rehabilitated in recent years by volunteers.
"He lived a very active and exciting life," said Roy Fronberg, a past master of Peninsula Masonic Lodge 168, who cited Masonic records showing that Tallman was buried with Masonic honors following a procession of horses and carriages carrying public officials and police.
Fronberg recounted how Tallman came to California, seeking his fortune first in the gold fields of Nevada County and later Virginia City, Nev., where he operated a toll road and pursued mining.
Returning to Nevada County, Tallman served as a justice of the peace before running through much of his earnings and heading for Redwood City, where he again became a deputy, Fronberg said.
To honor Tallman, Moser said he collected $2 from more than 400 of San Mateo County Sheriff's employees to pay for the new granite gravestone.
"I couldn't believe it had not been replaced," said Mary Ganley, president of the local Deputy Sheriffs Association. Ganley, a scarf of stars and stripes around her neck, was one of several to draw parallels between Tallman's slaying and the sacrifices of U.S. troops now fighting abroad in Iraq and elsewhere.
"Help us never forget, ever, the lives that have been given so that we may live free and in this country," said the Rev. Dennis Tarr of San Carlos' Trinity Presbyterian Church in a prayer.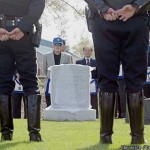 The ceremony was closed by a trumpeter playing "Taps." (San Francisco Chronicle, April 7, 2003.)