Biography of E. E. "Doc" Tallman written by William Tallman Hagny in the 1970's
updated by distant cousin Jon Tallman 2015.
Erwin Edwin Tallman, prominent Guthrie businessman and pioneer was known to most people in Guthrie and Logan County, Oklahoma as "E.E., or Doc".  He was born Oct. 5, 1863 in Davenport, Iowa, 6th child and 3rd son of Darius Benham Tallman and Emeline Smith both of Dutchess County, N.Y.  His father had 10 surviving children 2 by his 1st wife Louisa Jane Gray and 8 by Emeline.  On Nov. 12, 1881 Erwin married Carrie Mae Sweet born April 5, 1865 in Greenboro, Ind., daughter of Eli Macy Sweet of Indiana and Martha Susan Risk of Virginia.  They were the parents of three daughters Mattie Emeline, Alice Mae and Bessie Mattie.  Mrs. Tallman died May 31, 1937 and Mr. Tallman died Sept. 6, 1952.  Both are buried in Summit View Cemetery, Guthrie.
Mattie was born June 3, 1883 in Davenport, Iowa and died April 30, 1972 in Santa Monica, Cal.  Mattie married Ernest Ludwig Hagny in Guthrie July 11, 1906 at her parent's home by the Rev. Harry Omar Scott and honeymooned in the northern states.  Ernest, known by many as "Jack", was born June 1, 1878 in Keokuk, Iowa and died Sept. 23, 1954 in Downey, Cal. Both are buried in Forest Lawn Memorial Park Cemetery, Glendale, CA.  They were the parents of William Tallman Hagny, born June 8, 1907 and Alice Harryette Hagny born May 3, 1919 in Guthrie.  They first lived in Oklahoma City. Ernest, a railroad man, consequently made several moves with his family until 1917 when they settled in Denver, Colorado.  They resided there until his retirement when they moved to Downey.
Alice Tallman was born March 12, 1885 in Davenport and died Mar. 26, 1965 in Guthrie, where she is buried with her parents and a sister in Summit View Cemetery.  She married John William Martin Dec. 12, 1912 in the First Presbyterian Church by the Rev. G. O. Nichols.  They left for a honeymoon in San Antonio, TX.  The marriage however, was short-lived and after the divorce she resumed her maiden name.  "Miss Alice," as she was known to her many friends in Guthrie, remained with her parents and assisting them with the businesses eventually becoming a co-owner.
Bessie was born Nov. 5, 1888 in Bentonville, Ark. and died in Guthrie, May 20, 1890, she too is interred in Summit View.
Mattie and Alice were educated locally at Carleton Guthrie Schools and both were attending Christian Female College (now Columbia College) in Columbia, Missouri in the years 1903 and 04.
A "Boomer" organization began growing in the 1880's started by William Couch and here, I'll make the assumption that Erwin saw an opportunity for a new future in Oklahoma Territory.  E.E. having been born, raised and married in Iowa made a temporary move to Bentonville, AR where they spent the winter of "88".  Then on April 22nd, 1889 Erwin made the "Run" with a team and buckboard.  It's estimated that nearly 14,000 made the "Run" that day with only 1000 staking a claim.  Erwin staked his homestead northeast of Guthrie, near where Summit View Cemetery is now located.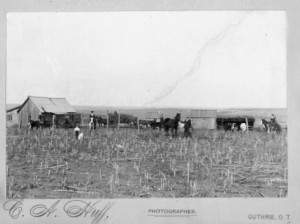 Mr. Tallman started the first dairy farm in Logan County and delivered milk which sold for five cents per quart and fifteen cents per gallon.  After two years of operating the dairy, he moved his family to Guthrie to the southwest corner of Division Street and Noble Avenue, where he established the first large "wagon yard", feed store and livery stable.  In 1910 the feed store and livery grew with the addition of a large brick and frame structure added and he started one of the first automobile agencies selling Reo and Oldsmobile.  "Miss Alice" held the two-fold distinction of bookkeeper and driving instructor for the new automobile owners.  In later years it was again updated for servicing all automobiles, adding a filling station, yellow taxi cab and Greyhound bus station that he operated with his daughter.  The Tallman's also had the distinction of having the first telephone in Guthrie with the number 1. The building suffered serious fire damage in 1946 but, was saved.  Today the building is on the Cities Historical list and is occupied by the Stables Restaurant.
In the year 1904, St. Louis held the "World's Fair" in celebration of the 100th anniversary of the Louisiana Purchase.  Erwin, Carrie, Mattie and Alice would take advantage by visiting the Expo and left Sep. 3, 1904 on the Santa Fe train.
In April 1906, Erwin with Jay E. Pickard purchased a lot at the corner of Division St. & Cleveland Ave. for real estate firm Milliken & Reynolds to build 100 room hotel and lease to hoteliers Van Dunn & Eaton.
Mr. Tallman held the distinction of serving for a half century as County-Weigher, a position to which he was regularly elected until his retirement.  He also served terms on the school board and city council and was active for many years in civic affairs.  He was a member of the First Presbyterian church, the Guthrie Lodge No. 35 AF & AM, Guthrie Country Club, the Oklahoma Consistory, and the 89ers Association.
Mrs. Carrie Mae Tallman came to Oklahoma a month after her husband; having lived in Bentonville for six months before the urge for adventure and the chance of making a business stake in the new territory took them to Guthrie. After moving to the southwest corner of Division St. and Noble Ave. from the dairy farm, Mrs. Tallman was active until a few weeks before her death.  She spent her time at the desk in the business which her husband owned and was well known throughout central Oklahoma.  By dint of hard work and sheer business enterprise she assisted in building up the transportation business that was synonymous with the Tallman name, and her personality lent an individual note to an occupation in which meeting of emergency was an everyday occurrence.  Mrs. Tallman was an early member of the Guthrie chapter of the Order of Eastern Star and the Presbyterian Church.  Her strong character that lent itself to business routine, had another side, although not openly displayed. She was a talented painter, her skillful handling of oils subjects were displayed in their home.
Today there exists several of "Doc" and Carrie's descendants in California.