David Newton Tallman
A Man who "Fell From Grace"
Jan. 22, 1872 – Apr. 23, 1958
by Jon Tallman
David will always be one of my special cousins, being that rare double cousin. His grandfather Solomon was a 2nd cousin of my gg-grandfather John  J. but, even closer his grandmother Jane was a younger sister of my gg-grandmother Sarah "Sally".  And they're farms were next to each other on Chestnut Ridge.
David was the third child of David Solomon Tallman, the Town of Washington's Supervisor and Commissioner of Highways his mother was the former Angeline Hall.  David spent his formative years growing up on the family farm in South Millbrook, Dutchess County, New York.  As a youth he was educated in the local schools and was actively involved with sports, especially baseball.  His grandparents were Solomon and Jane Ann (Newton) Tallman whose farm had been on Hammond Hill Road located on Chestnut Ridge.  His given name came from his great grandfather David Newton.
His siblings were older brother Akin Solomon b.1868 d.10/31/1929; a clerk for 27 years for Congressman John H. Ketchum and then as personal secretary to Hamilton Fish II and Edward Platt.  In 1920-21 he was a clerk on the Committee for Banking & Currency.  His other brother Isaac b.1870 d.10/31/1950 followed in their father's footsteps.  Isaac, also an accomplished Trap Shooter competed in tournaments in New York and throughout the east.  In 1900 he competed at the Grand Opening of the Interstate Park in Queens, N.Y. which featured Annie Oakley who was entered in the live bird contest.  His younger sister Elizabeth b.1876 d.8/12/1940 was a well know local seamstress.  His siblings never married and Isaac and Elizabeth were caretakers of the family farm in South Millbrook.
David prepared for college at Seymour Smith Institute in Pine Plains, NY.  In 1893 he graduated from Union College in Schenectady with a degree in Civil Engineering.  He was the Class Historian, a member of Beta Theta Pi fraternity, his senior year won the Engineering prize for his thesis on "Civil Engineering".  Active in sports, he was a pitcher on the college baseball team and 1892 was elected its team captain.
Like many at the time seeking his fortune and future in the west he moved to Willmar, Minnesota in 1893.  Obtaining a clerks job in the superintendent's office of the Great Northern Railway; probably due to his being an acquaintance of the superintendent William Thorne, second son of Samuel Thorne, of Millbrook.  There he met and married Gertrude Clara Adelaide Larson the daughter of Andrew Larson one of its wealthy pioneer citizens.
The daily papers of Willmar and those of St. Paul have long articles giving a glowing account of their wedding, which occurred Tuesday, March 27, 1894.  The ceremony was solemnized in St Luke's Episcopal Church, which was beautifully decorated for the occasion with potted plants, and cut flowers in banks and festoons, which gave the appearance of a fairyland.  All that wealth could afford was done to make the occasion what it was—one long to be remembered in Willmar society.  The bride, who is the daughter of Mr. Andrew Larson, a wealthy merchant and banker of Willmar, is a general favorite on account of her social position, her beauty, her charming disposition and her considerable attainments in art and music.
The wedding march was rendered while the groom, his best man and the ushers, followed by the six bridesmaids, dressed in white, with white roses, and the bride leaning upon the arm of her father, marched to the chancel rail.  The bride's dress was cordon pleated white satin with pearl trimmings, heavy lace veil, and in her hand she carried a white prayer book and a white rose.  The reception at the spacious residence was from 8:30 to 10 p. m., during which the bride and groom, amid the discourse of the best music, received congratulations from the scores of guests present.  The presents were costly, beautiful, and seemed innumerable.  Of one which was not visible, the Willmar papers say, "It came-from a wealthy father, and consists of an annual income sufficient to keep them in comfortable circumstances the rest of their days."
The groom is a thorough gentleman, and has never disappointed his many friends who predicted a fine future for him.  He graduated from Union College, Schenectady, NY with honors.  All his many friends will rejoice at his social success, and be glad also to hear that be holds a very responsible position in the general office of the Eastern Minnesota Railroad in West Superior.
His family, friends and business associates, simply referred to him as "DN" or "Newt".  Later years while on the golf circuit he picked up the nickname "Tolly" by golfing buddies.  David would earn a real life story that reads better than science fiction.  While in his prime, he would become one of the wealthiest men in Minnesota a self-made millionaire who lost it all.
David and Clara would have five daughters, Helen Margaret b.2/1895, Esther Jane b.10/1898, Gertrude May b.6/26/1902 and twins Margaret Angeline and Marjorie Mary b.6/26/1905.  In 1900 he was a Minnesota delegate in Philadelphia that helped nominate William McKinley and Theodore "Teddy" Roosevelt to the White House.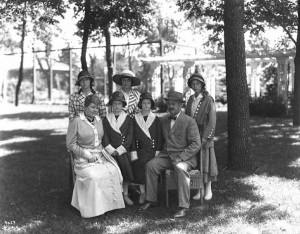 Three years after starting with the Great Northern, he was in the banking business, joining his father-in-law Andrew. By 1897 he began acquiring independent telephone companies and formed the Minnesota Central Telephone Co. with about 2000 miles of toll line and 26 local exchanges. In 1902 he announced the expenditure of $250,000 to update and improve its facilities. After seven years in the telephone business, he divested his interests to focus his attention to the Willmar Realty Co. which he started in April 1902 with $30,000 capital. In April 1905, he formed the Dakota Development Co. and the Farmers' Lumber Company. In May of 1906 with $100,000 in capital stock he started the Northern Town & Land Co. Both companies were engaged in developing townsites along the Great Northern system where the railroad was building new rail spurs. Finally in January 1907 with $500,000 capital stock the Tallman Investment Co.,  with D. N. president and treasurer, father-in-law Andrew Larson vice-president and Sigurdt B. Qvale secretary, this was done for convenience in overseeing all his companies. The Town Site business was probably partially financed through the 1909 sale of 482 acres of his livestock farm (at the time the largest in Minnesota) to the State. September 29, 1909 an auction was held to sell all the farm implements, remaining animals and feed, crop, etc. In 1911 the State built the Willmar State Hospital there and in 1917 expanded and renamed it the Willmar State Asylum. Another part of his farm became the Willmar Country Club (today Eagle Creek Golf Course). David helped with the design of the first nine holes which opened in 1931. David is also acknowledged as having been able to acquire the funding to have the Willmar Public Library built, opening in 1904. Having Andrew Carnegie as acquaintance, who at the time was giving matching funds based on the Carnegie formula to cities for library construction, which allowed the Library to be built. The Town Site business can be directly attributed to his personal friendship with Louis W. Hill, the son of James J. Hill, Great Northern's chairman. At first, Hill's Great Northern had an agreement with Frederick H. Stoltze, a St. Paul Coal and Lumber dealer. After some dealings in which there were only minor successes, Hill knew that Stoltze was not the man to entrust with future sites. By 1905 Louis, had now assumed control of the Great Northern from his father; asked his personal friend Tallman to take the lead in these ventures as the Great Northern was in stiff competition with the Canadian "Soo Line." Hill's organization determined where the railroad towns should be built and the desired size of each calculated on the potential grain freight business. It should be noted here that the Dakota's and Montana were in the heart of the Great Wheat belt known for its spring wheat. Eureka, SD held the distinction of once being the "wheat capital of the world". Tallman then designed 3 or 4 master plan layouts of the towns that would meet the specs' of the railroad. However, before any advertising or sales could begin; the proposed Town plats had to be filed and the lots had to be staked. All told, Tallman became the principal investor of 125 small towns in Montana and in North and South Dakota.
These new towns were advertised widely in the press and were launched by auction.  Tallman hired Willard F. Hanks, a savvy salesperson, to attract merchants to establish good trade opportunities in the new towns.  Adds such as: "Splendid openings for all lines of business, in a territory already noted for its productiveness.  Each Town has an enormous territory both North and South which means big business and large profits."  Promises of establishing a lumber company to furnish supplies for building construction was a known factor.  Tallman established banks in 42 of these towns and was the president; he also established 24 lumber companies.
One of his Towns "Tolna, ND" includes a little insight about it's history and "Newt" click the link below.
http://www.cityoftolna.com/history.htm
One of his banks in Montana came about as follows:  The Havre National Bank of Havre, MT. was founded on July 1, 1909 with a capitol of $50,000 with $10,000 surplus.  Frank Chestnut owned the buildings that originally housed the bank; Directors included Tallman (pres.), C. F. George of Helena, M. L. Helgerson (vice-pres.), ex-mayor E. F. Burke, and A. L. Herrig, cashier, of Havre.  Tallman's string of banks were in Minnesota, Montana and North Dakota.  Helgerson, also controlled his own Land Company of Lethbridge, Canada and Minnesota.  Major stockholders in the Havre National Bank also included Louis W. Hill.  Another major stockholder in a number of his banks was Sigurdt B. Qvale the mayor of Willmar.  The Tallman Investment Company purchased the lot at a cost of $7,500 with the aid of E. C. Carruth, prominent local real estate and insurance salesman.  The new bank building completed in 1910, was described in the "St. James Plaindealer" of Minnesota –as being 30-by-80 feet and having a basement with the first floor being devoted entirely to the bank.  The front of the building held a "court" for the transaction of banking business and had massive mahogany fixtures and furniture with marble counters having brass latticework.  The floor had multi colored tile blocks and the whole interior had a "rich appearance".  It was the central bank for several branches in northern Montana including Galata, Concord, Dunkirk, Brady, Collins, and Dutton.  In 1912, the county attorney, coroner, assessor, and superintendent of schools were all located there because of a shortage of space.  Rent was $210 per month.  The Havre National Bank did not remain at this location long, however, as they relocated to the old Citizen's Bank location at 228 First Street in 1913.
David's financial collapse went as follows: "he told that with WWI he lost most of his good men and after the War, property values fell from $100/acre to $20." Times were tough in the 1920's, dry years, plant diseases and insect infestations took their toll. When the Great Depression set in, during the 30's half the population was on relief and Tallman's banks held loans primarily to farmers. Farmers were unable to bring in enough crops to market, bringing them to their knees and thus his empire started its collapse. He was now losing his fortune faster than he had made it. Another factor he may not have recognized that certainly contributed were the railroads competition for freight and Towns with grain elevators. The two railroads were continually spec'ing towns practically side by side and in most cases only one succeeding to attract growth. One 1952 story about Tallman included the mention that he had lost "$600,000 in one nightmarish stretch". However, he didn't lose his fortune all at once. He was still well off enough in 1927 to take Clara and the twins on trip to Egypt where they can be seen riding camels at the Pyramids of Giza and the Great Sphinx. His holdings were so large it wasn't until the late 1940's that he eventually lost their house.
DN never let this fall from grace get him down. From a letter dated October 12th 1936 quote- "After all when Depressions come that you had nothing to do with-and sweep away life's work why should one go "nutty" about it, as so many have." In a number of his letters he talked about his blessed home life with his wife and daughters.
Tallman could count among his personal friends the likes of such as Louis W. Hill, Pres. of the Great Northern; Murry Guggenheim and his son Edmund A. of the Mining Industry; Robert A. Stranahan, founder of Champion Spark Plug; Hall of Famer – Babe Ruth; Jack Ryerson whose father helped organize the US Golf Association; David Draper Dayton of Dayton Dry Goods Stores.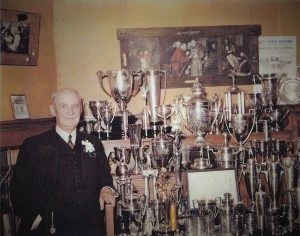 At age 50 he took up golf and won 142 trophies.  Tallman was dubbed "Minnesota's Grand Old Man of Golf" in a 1952 profile published by the West Central Tribune of Willmar.  When it comes to stars of Minnesota golf, there's one star that stands with the all-time greats but remains largely forgotten to modern players.  Tallman is arguably one of the most accomplished senior golfers of all time.  He won four Minnesota Senior Golf Championships, a feat trumped only by Runcie Martin who won five.  On the National stage he won a National Seniors Championship.  At 55 he played in the 1927 US Amateur Championship held at Minikahda Club won by Bobby Jones Jr. in Minneapolis but failed to qualify.  For seven years he played in the Seniors National Golf at Apawamis Country Club in Rye, NY.  He finished second twice and played on the US team against Canada and England.  He played golf often with Babe Ruth in Belleair, FL. during the spring training season.  He won numerous Midwestern and Southern senior titles.  He was posthumously inducted into the Minnesota Golf Association's Hall Of Fame in June 2010.
"He was a fantastic putter; he could putt up a storm" says Richard Larson of Willmar.  As a teenager Larson caddied for "DN" for a handful of years starting in 1949 by which time Tallman was 77.  "I never heard DN complain (unless it was a golf shot that went bad)," wrote Larson, his former caddie.  "He was a very upbeat guy.  Very likeable, he was short of stature at that time and kind of shuffled along.  He always looked forward to that next shot.  He was sharp as a tack, fun to be with and knew a few jokes.  He was quick on the draw".  Though Tallman stopped golfing competitively in the early1940's he continued to shoot his age even as he approached his 80th birthday.  "By the time I started caddying for him, he had become a smaller version of the athlete he had been," Larson wrote in a letter about Tallman.  "He used a wood as a cane when he walked around the course.  Even though they had electric carts at that time, he chose to walk.  As I look back, I'm sure he did this to keep his strength up.  When I caddied for him, he couldn't hit the ball a great distance, but he made up for it with accuracy", Larson added.  "He did shoot his age a few times when I caddied for him."  He served as President of the Minnesota Golf Association for five years from 1925 through 1930.
The following is a quote from his granddaughter Jean Tallman (Wilson) Buechner.  "I will share with you a story from 1946 when Babe Ruth came to Cleveland to play golf with 'Newt'.  They met twice a year for golf in Hot Springs, Arkansas.  When 'The Babe' was introduced to me at age 14, I thought I was going to be given a Baby Ruth bar.  I am looking at that autograph right now.  Then the 2 golfers played at our little country club in Pepper Pike, Ohio".
Of his five daughters; Helen married Willard Ware Wilson a Trust officer with the Cleveland Trust Co. one of the largest banks in Ohio.  D. D. Dayton of the Dayton Store Empire sent a wedding gift by aero-plane from Minneapolis to Helen on her wedding day.  Esther married W. V. Freeman son of Right Rev James Edward Freeman the 3rd Bishop of Washington, DC.  Gertrude married Frank Roos a 1925 graduate of the Univ. of Minnesota.  Marjorie married Vendale Lundquist a Willmar judge and attorney.  At least two of David's daughters learned the game well from their father.  In 1924 Esther Tallman Freeman was the Minnesota Women's Amateur Champion defeating Mrs. Dow L. George at the Minneapolis Country Club.  In the same year she also won the women's Division of the Resorters Tournament at Alexandria Golf Course, Alexandria, MN.  She was the 1922 Runner-up of the Minnesota Women's Amateur at Interlachen Country Club.  Daughter Helen Tallman Wilson in 1938 won the Tracey Cup at The Country Club of Cleveland, OH.
David Newton Tallman died April 23rd 1958 nearly 2 years following his Clara's passing.  They are buried overlooking Foot Lake in the Lakeview Section of Fairview cemetery in Willmar.
Major Golfing Accomplishments
November 1st 2010: Posthumously inducted into the Minnesota Golf Association Hall of Fame.
1927: Played in the US Amateur Championship held at Minikahda Club, Minneapolis, MN.
Seven-time player in the Seniors National Golf at Apawamis Country Club in Rye, NY.
1931, 1934 & 1943: Winner of the Lakeland Open Golf Tournament, Eagle Creek Golf Course, Willmar, MN.
1928 & 1932: winner of the Birchmont Golf Tournament, Bemidji Town & CC, Lake Bemidji, MN.
Winner of five "Senior Trans-Mississippi" titles.
Winner of four Minnesota State Senior titles: 1926, 1927, 1928 and 1937.
Florida West Coast Senior Championship 1934, 36 and 39 winner and permanent possession of the Murry Guggenheim trophy.
1942: winner of the Detroit Lakes tournament, Detroit Lakes Country Club, Detroit Lakes, MN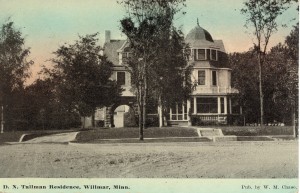 DN's Original House c. 1910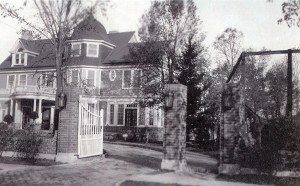 1925 taken after adding an east addition and extensive exterior landscaping.