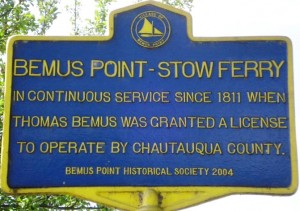 The ferry's located at the "Narrows", a crossing of 968 feet between Bemus Point, New York on the eastern side of Chautauqua Lake to Stow on the western side. Started in 1811 by Thomas Bemus an early pioneer of the County whose father had property on both sides of the Lake. It was the only way to cross the lake until the fall of 1982 when the bridge on I-86 opened to traffic.
When large steamers started operating on the lake in the 1860's it created numerous problems for the ferry. A steel cable was installed in 1887, replacing ropes, thus being harder to break but expensive to repair.
In 1901 the Lakes Navigation Commission issued a requirement that steamboats sound their whistle as they approached the narrows. This gave the Ferry time to reach the shore, and allowed the drive cable to sink to the bottom and the boat passed through without incident. The last steamboat the "City of Jamestown" ceased operation at the end of 1958. In 1960 the State of New York took over control of all inland lakes.
There were numerous operators until May 3rd, 1886 when Albertus Rappoe's Charter expired.  William Wallace Ball, Jothan Bemus & W. H. Urmson obtained a new Charter and took over the operation.  In 1887 a man named "Mep" Mason built a new ferry which operated by a steel cable, pulleys and hand crank.  When William died in 1898 the operation became a Company enterprise with Alton Wells Ball as President.
Alton married my first cousin twice removed, Nora A. Tallman on 18 June 1892 in the Ashville Methodist-Episcopalian Church by Rev. J. P. Burrows. Alton and Nora both came from early pioneer families to the County. Nora once was interviewed by Floyd L. Darrow for his book on the History of North Harmony about the Tallman's. She was 10 when her Grandfather John James died in 1883 and retold the story he passed on to her of the family move in 1848 from Chestnut Ridge in Dutchess County to their new farm in what was then the Town of Harmony. John "traveled with his children by wagon pulled by oxen, camping along the way." His wife Sally stayed with her family until John was settled on the new farm.
Manual operation of the ferry ended in May of 1902, when, Alton and his brother Ralph installed a naphtha fired steam engine. Then in 1908 it was again changed this time to a single cylinder gas engine.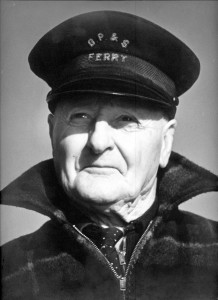 Alton was also known as a boat builder and may have been involved with building some of the steamships. The winter of 1915 he built a new ferry that began service April 1st, 1916 with a capacity to carry 6 automobiles and now using a four cylinder engine. The family business was incorporated in 1921 as the "Bemus Point to Stow Ferry." 1924 saw another growth of the business with two ferries operating simultaneously from both sides of the Lake passing in the middle. Alton bought out the business in 1925 becoming the sole owner and built what would become the last ferry in 1928. Alton and Nora had two sons Gerald Alton in 1898 and Earl Cecil in 1901. Both, as youths helped out with the operation. Gerald entered the Army Tank Corps in October 1918 and was discharged December 1st from Camp Dix (1). Gerald went to work for Curtiss Aeroplane in Buffalo before entering the service and again upon discharge. When Curtiss closed he moved to Detroit there he married Adeline Stella Barnes in 1922. Prior to 1930 however, he returned home and re-entered the family Ferry business. Earl became an accomplished mechanic, in 1926 he married his cousin Gladys Ball and permanently moved to Los Angeles (2). On an average day, 80 trips would be made and 350 motor vehicles would be transported, at a fare of 30 cents for an automobile and 10 cents for each passenger.
With Alton's sudden death at the start of the "42" season Gerald took over and promised to run it for at least that season. In 1943 the ferry was sunk at Stow, Gerald said he didn't know what happened, but most people thought he sunk it so he could leave and go to Erie, Pa., for a good-paying wartime job, which he did. Nora would begin a routine of spending winters with Earl in Los Angeles and return to Stow in the spring. Alton and Nora are buried in Magnolia Cemetery, North Harmony, New York alongside several of their Ball and Tallman ancestors.
With the end of the of the 1942 season the Ball family would leave a lasting Chautauqua Lake legacy of being its longest operators. 1944 the County acquired and operated it until the I-86 Bridge opened. Today, it's operated seasonally by a non-profit organization running as a tourist attraction. It remains as one of the last cable drawn Ferry's in America.
NOTES:
(1) World War I had ended, Gerald was discharged on demobilization of US Troops.
(2) Alton had two brothers (Frank & Ralph) living in the Los Angeles area and another in Oregon which may have been part of Earl's lure there. After Alton's death Nora would spend many winters with Earl and his family in Los Angeles and summers at Stow until her passing in 1959.
REFERENCES:
"A Ferry Tale" by Art Thomas published 2011 by the Town of North Harmony.
Sea Lion Project Limited, the current operators of the Ferry.