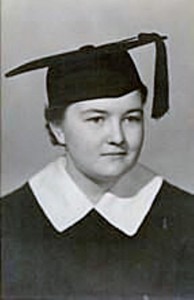 In Memory of
Ellen L. Talman
January 4, 1920 – September 9, 2015
Dr. Ellen L. Talman died at home of natural causes on Wednesday, September 9, 2015 at the age of 95. Ellen was born on January 4, 1920 in Baker, Oregon. Her parents, originally from Iowa and Nebraska, moved with Ellen and her sister to Baker City, OR, and then Kelso, WA, before settling in Portland. For over 60 years she lived in the family home in southeast Portland's Clinton Neighborhood until she moved to Hillsboro to be closer to her family.
Ellen was a woman ahead of her time. She excelled in a profession few women at the time would consider an option. Ellen attended Reed College while living at home, receiving her B.A. degree in Chemistry from Reed in 1942. She delayed her education to serve with the U.S. Marine Corp during WWII from 1943 to 1945, serving as a Marine Reserve Non-Commissioned Officer in charge of a materials testing laboratory at the Marine Corps Air Station, Cherry Point North Carolina. After the war Ellen attended the University of Oregon Medical School (OHSU), completing her M.S. degree in 1949 and PhD degree in 1951.
Ellen's bright mind allowed her to excel in the field of biochemistry. From 1951 to 1955 Ellen worked in the Departments of Bacteriology, Ophthalmology and Biochemistry at OHSU, serving as an Instructor and Assistant Professor from 1955-1967. From 1961 to 1966 Ellen also served as an Assistant Scientist at the Oregon National Primate Research Center and from 1967 to 1970 as a Research Associate, Biochemist, for the OHSU Department of Surgery until her retirement in 1970.
She was an Emeritus Member of the American Chemical Society, having first joined in 1942, keeping her membership current the remainder of her life.
Ellen had two sides: The Dr. Talman who made a name for herself in a field better known to men at the time; a loving daughter to her parents; and a second mother to her nephew and his family. After retirement, she spent several years caring for her elderly parents, and was always there to help family when needed.
She had her own vegetable and berry garden, canned and made her own bread, always having a cupboard full of canned fruits as well as a freezer full of her famous home grown raspberries (now transplanted to family gardens). Her family will always treasure her pancake, bacon, egg and raspberry breakfasts in the yellow breakfast nook of her kitchen. She loved to crochet tablecloths, doilies, and blankets as she passed her time watching television. Football (Ducks and 49er's), and Lawrence Welk, Wall Street Week and Washington Week in Review on OPB, were among her favorite programs. She had many interests, particularly the early history of the United States, and continued to learn and keep current in the areas of science and current affairs. Politically conservative, she was a longtime supporter of The Heritage Foundation, as well as Republicans for Choice. All who knew Ellen respected and loved her for her strong will and independence, as well as her brilliant mind and heart of gold. She will be missed.
Ellen was preceded in death by her parents Clarence and Zoe Talman, her brother Dale and sister Virginia Talman Brooks.